Media and Design State Competition Details
We are currently planning virtual Middle School and High School state competitions for May 2021.
High School Competition:

All projects will be judged virtually
by our distinguished

panel of judges
Middle School Competition:
All projects will be judged virtually
by our distinguished

panel of judges
Workshops
Workshops and activities are TBD. Please check back again later.
Dickinson College Campus Information
The competition will be held in the Holland Union Building (HUB).
When arriving at the college with your computers, please unload your equipment from N. College Street. You may stop here BRIEFLY to unload, but cannot tie up traffic. Carts will be provided for you to bring your computer equipment into the Social Hall to set up. Once unloaded, park in the lot behind the Townhouses (which is just across the street from Anita Tuvin Schlechter Auditorium (ATS), see campus map. The lot is behind buildings #17, #18 and #22 (the Townhouses).
Judges' Room – Mary Dickinson Room
Competition – Social Hall
Digital Movie Projects – Side rooms 201 & 202
Lunch – Will be provided to all students and sponsors in the dining hall
Awards Ceremony – Anita Tuvin Schlechter Auditorium (ATS)
At the Underground, students and advisors can relax in the lounge area or in the seating area. Students and sponsors lunch will be served in the dining hall.
Workshops – Tome Science Building
AWARDS CEREMONY:
The awards will be held in the Anita Tuvin Schlechter Auditorium (ATS).
Guest Internet Access at Dickinson College
Click here for information on how to self-register to obtain a guest account on the campus guest network.
Judge Information
This year's judges come from business, industry, education and government backgrounds.
Lunch Information
Lunch will be provided for all students, sponsors, judges and workshop presenters in the dining hall. Guests are welcome to join us in the Dining Hall but they must pay $10.50 per person for lunch.
Sample Menu:
Full Deli Bar
Salad Bar
Dessert Bar
Hand Dipped Ice cream – serve yourself
Ice Cream Novelties
Chicken Noodle Soup
Hamburger/Cheeseburger
Buffalo Shrimp w/ Cocktail Sauce
On The Grill
Hot Turkey Club w/ Bacon on Croissant
Vegan Garden Burgers
French Fried Potatoes
Green Beans
Hotel Recommendations
Days Inn Carlisle South
101 Alexander Spring Road
Carlisle, PA
717-258-4147 or Toll free 888-606-7447
Sleep Inn
5 East Garland Drive
Carlisle, PA
717-249-8863
Comfort Suites (closest to the college, within walking distance. Suites with continental breakfast included.)
10 S. Hanover Street
Carlisle, PA
717-960-1000
Directions
From the East:
Take I-76 West (85.7 miles)
Take exit 226 for US-11 S toward Carlisle (0.7 miles)
Merge onto Harrisburg Pike/US-11 (2.9 miles)
Turn right at W High St/PA-641/PA-74/US-11 (0.4 miles)
Turn right at College St, Holland Union Building will be on the left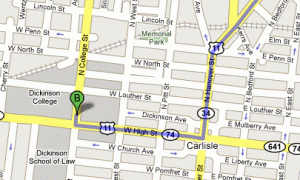 From State College:
Take PA-26 N (2.2 miles)
Turn right to merge onto US-322 E (43.3 miles)
Take the PA-75 exit toward Port Royal (0.4 miles)
Turn right at Industrial Park Rd/PA-75 (4.7 miles)
Turn left at PA-74 (1.2 miles)
Turn left to stay on PA-74 (74 turns into College Ave, see map below; 30.4 miles)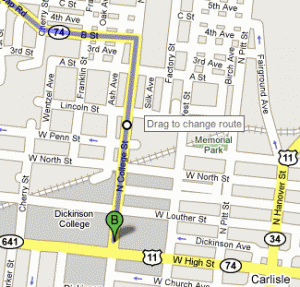 Reminders
All hardware and software will be provided by the student or school district.
Internet connections will be provided at the competition.
No computers will be allowed for students in the Logo and Graphic design category.
The Participation Packet must be completed and displayed with all projects.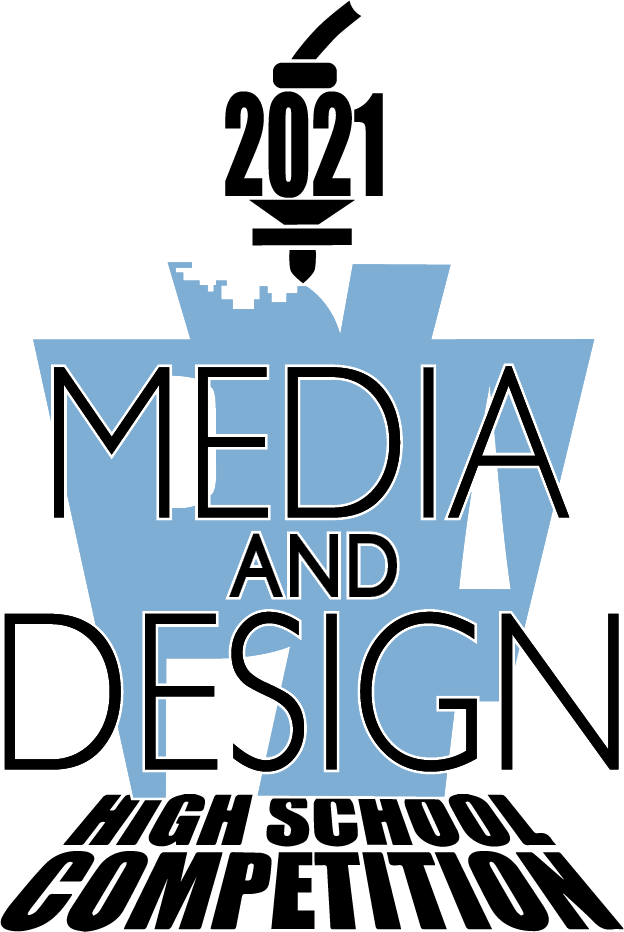 Logo winner: Kalina Pechart, Abby Walter, and Destiney Wynn - Line Mountain High School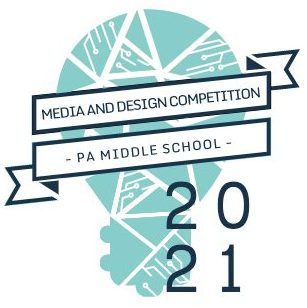 Logo winner: Michael Chan - Arcola Intermediate School
Use the hashtag #pamediadesigncomp on all your social media posts